Colombian Excelso EP

Colombia is the second largest producer of coffee in the world and the largest producer of washed and Arabica coffee. They are well known for their high quality coffee and about half of their exports come to the United States. Colombia exports approximately 12.5 million bags and internal consumption is about 2 million bags annually.
Colombia only produces washed Arabica coffee. There are three primary varieties grown in Colombia and the coffee is referred to by the region in which it is grown. There are many coffee producing regions in the country. Colombia is proficient in producing an abundance of truly delicious and sought after coffee.
This particular type is Excelso; this term is a coffee grading term in Colombia. Excelso coffee beans are large, but slightly smaller than Supremo coffee beans. Excelso coffee beans are a screen size of 15-16. Colombian coffee is graded before shipment according to bean size. It is possible that Supremo and Excelso coffee beans are harvested from the same tree, but they are sorted by it's size. The greatest volume of exported coffee is Excelso. These beans include good-to-large flat beans and some peaberries.


• EP (European Preparation) specifies that the raw beans are all hand sorted to remove any defective beans and foreign material.
Regions


Antioquia – Medellin (18% of total production)

Tolima – Ibague

Caldas – Manizales (29% of total production)

Valle del Cauca – Cali (13% of total production)

Huila – Neiva (5% of total production)

Cauca – Popayan (4% of total production)

Santander – Bucaramanga
Cupping Notes
rich acidity, medium-bodied, citrusy flavor, with a clean and sweet aftertaste
Costa Rica SHB Romelia

Fr
om the cloudy region of the Palmichal rainforest comes our Romelia coffee. This region, bordering the historic zone of Tarrazú, is famous for its unique acidity.
Manuel Rojas Arias was the pioneer coffee grower in the Palmichal region, located on the western slopes of the Escazú Mountains. Many farmers observed the success Don Manuel had with coffee and began to convert their sugar plantations into coffee farms. After Don Manuel's death, he left his farms to his only sister, Romelia. Thanks to her strength and perseverance, Doña Romelia was able to sustain the quality of her farm's coffee.

Manuel Rojas also happens to be the founder of Beneficio Palmichal, which he opened in November of 1933. In this same year, Don Manuel received and processed 5,025 bags of SHB coffee of such superb quality that he claimed the best prices in Costa Rica.

Cupping Notes
Spicy aroma, vibrant acidity, well-rounded, rich body
Ethiopia Yirgacheffe

Ethiopia is located in the horn of Af
rica and is bordered by Somalia to the Southeast, Djibouti to the east, Kenya to the south, Sudan to the east, and Eritrea to the northeast. It occupies the high plateau region between the Nile plains of the Sudan and Eritrea. Ethiopia is one of the largest countries in Africa with an area of over 1.13 million square kilometers. It has a rugged topography with altitudes ranging from around 100 meters below sea-level in the Danakil depression to 4,600 meters above sea-level in the Semien Mountains.

Ethiopia is the primary center of origin of the Arabica coffee plant. Coffea Arabica has been growing wild in the forests of the Southwestern Highlands of Kaffa and Buno districts of Ethiopia for thousands of years. As legend has it, coffee was discovered in Ethiopia in the 9th century by a goat-herder named Kaldi. He noticed that his goats became hyper after eating the cherries from the coffee tree, so he tried it himself. A monk approached Kaldi after he consumed the cherries and took some to his monastery. The monk roasted and brewed the coffee to share with other monks. As a result, they were able to stay awake during long nights of prayer. Since then, coffee has been widely accepted as a stimulant drink.

Ethiopia has over 70 ethnic groups that speak over 200 languages. As a result, coffee is referred to as Bunna (Amharic), Bun (Tigrigna), Buna (Oromifa), Bono (Kefficho), and Kawa (Guragigna). Some argue that most names for coffee are derived from the names of the districts Kafa and Buno. The French and Spanish call it Cafe, the Italians call it Caffe, the Germans call it Kaffee, the Finnish call it Kahvi, the Dutch call it Koffie, and the Greek call it Kafes. All are phonetic approximations of the Ethiopian word.

Yirgacheffe
The washed Yirgacheffe is one of the best highland-grown coffees. It has fine acidity, body, and flavor. Many people are attracted to its delicate, floral, and tea-like characteristics.

Cup Characteristics
tea-like, fruity, citric, floral, lemon, sweet, great body, very complex, clean
Mexico Organic SHG Oaxaca La Cañada

The humidity and altitude present in the Cañada region of Oaxaca, Mexico, create ideal conditions for growing coffee. The elevation here is 1,200-1,500 meters containing mostly Mundo Novo, Bourbon, Typica, and Criollo varieties. Union de Productores Las Flores is based in this region in the town of Eloxochitlán de Flores Magón. This supplier is about 6 hours east of Mixteca. Each member owns .5 – 3 hectares, wet milling the coffee at their own mills before transporting their coffee in parchment to the UPLF beneficio. The majority of La Cañada farmers, pickers, and beneficio workers still speak the indigenous language of the region. They often consolidate their coffee with "Mixteca Alta del Pacifico" to build full containers.


• Organic specifies that the coffee is grown without chemical pesticides or fertilizers; using methods and materials that have a low impact on the environment.
•  SHG/Strictly High Grown specifies that the coffee was grown at an altitude above 1350 meters. This term is also synonymous with SHB (Strictly Hard Bean); this classification is higher than HG.
Cupping Notes
Sweet fruit , rich, smooth, clean, crisp, complex, juicy, cocoa.
2016 Farmers Market Blend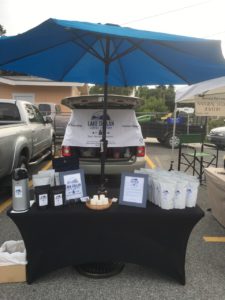 The 2016 Farmers Market Blend is made up with beans from Colombia, Sumatra and Costa Rica.  This blend will have a spicy, winey, sweet tobacco aroma when brewed. This is an excellent drip blend or a great espresso with good body, some acidity and intense flavor.
Cupping Notes
dark chocolate, almonds, and caramel.
Indonesia Sumatra Mandheling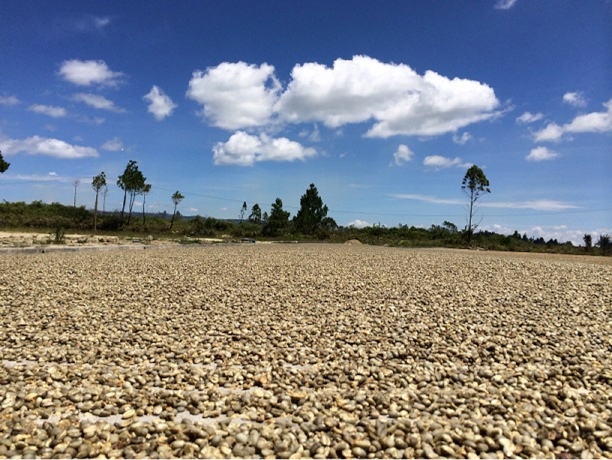 Many of the islands of Indonesia were formed by volcanoes. Therefore, they are mountainous and have rich soil that is ideal for growing coffee. It is no wonder that some of the world's most famous coffees are grown on the islands of the Malay Archipelago of Indonesia: Sumatra, Sulawesi, and Java. Approximately 15% of all the coffee grown in Indonesia is Arabica. Sumatra is the second largest islandof the Republic of Indonesia. Sumatra Mandheling coffee is grown on thelofty volcanic slopes of Mount Leuser near the port of Padang in the Balak region of west-central Sumatra.
Coffee trees were originally brought to Indonesia in the early 19th century by the Dutch, who sought to break the world-wide Arabic monopoly on the cultivation of coffee. Within a few years, Indonesian coffee dominated the world's coffee market. Yet by the end of the century disease completely destroyed the crop. Coffee trees were successfully replanted and quickly gained a large share of the world market until the plantations were ravaged again during World WarII. "Mandailing", spelled here correctly, is technically an ethnic group in Indonesia, not a region, as is Batak.
The unique method used in its production results in a very full body with a concentrated flavor, garnished with herbal nuances and a spicy finish. Giling Basah, the name of the traditional Sumatran process, involves hulling the parchment off of the bean at roughly 50% moisture content; for comparison, most other processes hull coffee at around 10-12% moisture. This unique Sumatran process results in a trademark flavor profile (low acidity and a richness that lingers on the back of the palate) and gives the green beans a signature dark color. Notes of chocolate are evident in the finish.
We buy Grade 1 Sumatras as Double-Picked (DP) or Triple-Picked (TP), referring to the number of times the coffee is hand-picked for defects. This extra quality control results in a very consistent cup including only cherries at optimum ripeness.
Cupping Notes
strong cedar notes, consistent, balanced, sweet tobacco, winey, spicy, chocolat